Maximize the flavor of the ingredients.
We basically use Japanese food that makes full use of the blessings of nature in the Sanin region, such as organic vegetables from contract farmers.
By various cooking methods, dishes that bring out the characteristics of the ingredients will make the dining flavorful.
Freshly picked vegetables and fishes.
Organic vegetables harvested in the morning, freshly landed live fish, and seasonal fruits.
You can enjoy the fresh ingredients that can only be obtained at Kaike Onsen,
which is close to the mountains and the sea.
Carefully selected ingredients.
Our chefs visit local producers to purchase ingredients.
We also have world-class ingredients such as caviar and truffles.
Breakfast in the dining room overlooking the garden.
One of our specialties is breakfast, where you can enjoy a variety of carefully prepared dishes with freshly cooked rice and miso soup. Please savor a delicious breakfast that will satisfy your heart.
Wagyu beef and spiny lobster teppanyaki.
We have prepared a private room limited to 2 groups a day where you can have Tottori wagyu beef olein 55 teppanyaki.
We also offer a performance where you can have your food cook right in front of you.
A lineup of wines from the five major Bordeaux chateaux.
The wine cellar can stock up to 300 bottles at all times.
Mr. Masaru Matoba, a master sommelier certified by the Japan Sommelier Association, has specially selected wines for Yado Shiontei from wineries around the world.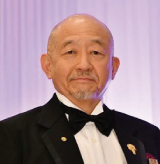 Mr. Masaru Motoba
Master Sommelier
The Counter seats and Private room dining options.
he Counter seats and Private room dining options.
There are five private dining rooms where you can enjoy your meal.
At the counter seats like kaiseki and omakase where you can watch the food preparation techniques while conversing with our chefs.
A Story in a Dish
We have invited Masahiko Oishi, who has worked at high-class inns and foreign-affiliated hotels in Kyoto to be our executive chef.
He has a deep knowledge of Japanese and international ingredients and creates Japanese cuisine with a story to tell.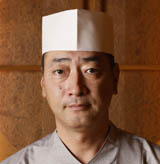 Masahiko Oishi Executive Chef
After 10 years of training at a ryōtei (Japanese restaurant), Masahiko Oishi worked at Japanese restaurant and a Japanese inn. As an executive officer of a foreign hotel, he gained international culinary experience and studied various genres of cuisine while maintaining his roots in Japanese cuisine.
"It is my great pleasure to be able to offer you another chance to experience the hospitality of a lifetime in Tottori, the kingdom of food".
Nurturing with Producers
Dedicated ingredients
We have contracts with producers who nurture their ingredients with deep love and care.
We are expanding our network to procure safe and high-quality vegetables, fruits, and fish.
No pesticides or fertilizers
Natural cultivation
While benefiting from the nature of Mt.
We grow 20 kinds of vegetables a year throughout the four seasons.
We also practice "natural cultivation," which does not rely on pesticides or fertilizers.
We are striving to produce vegetables that are delicious and make us happy.
Miki Kuniyoshi,Daisen-cho, Tottori Prefecture
The Family Cares
Carefully grown vegetables.
broccoli, sweet corn, and white leeks using conventional farming methods. In addition to that, there are also small quantities and many items.
We are trying to grow safe vegetables without pesticides and fertilizers.
"Specially cultivated white leeks" with the best.
Please try it once.
Yasuo Fujimoto,Daisen-cho, Tottori Prefecture
Rich food from the Sea of Japan,
where long-established fishmongers are connoisseurs
Yamayoshi Kaisan, a fish shop in Sakaiminato, one of Japan's leading fishing ports, was founded in the 30th year of the Meiji era.
With that in mind,"I want everyone to taste the fresh fish of Sakaiminato," this path is straightforward. We will deliver seasonal seafood grown in the rough seas of the Sea of Japan.
Yoshihiko Yamada,Sakaiminato City, Tottori Prefecture
Five-star rice masters
carefully selecte
Tottori Prefecture has long been a rice-growing region.The rich soil at the foot of Mt. Daisen.
We hope you will enjoy the freshly cooked rice that is full of the nature of Tottori Prefecture and the passion of its producers.
Minoru Iwasaki,Yonago City, Tottori